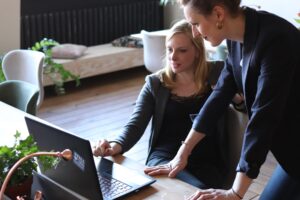 Some people consider coaching because they want to fix or improve their businesses. They want a strategy or a tactic that will magically turn things around in a short period of time. The reality is there are already lots of wonderful books out there (mostly under $20) discussing all sorts of strategies and tactics, but who reads them?
In our view, the defining factor of success is psychology, not mechanics. For that reason, the focus should be on the mindset. Specifically, how you see the world, what you think of yourself and of others. The way you complete the following sentences says a lot about you:
I am _____.
People are _____.
Life is _____.
Think about a person who is saying to himself "I am a loser, people are stupid and life is unfair.". What are his odds of success in business? With that mindset, how can he possibly become an effective leader or benefit from new techniques to grow his business? That is why we coach the person – the leader – not the business. Without a leader, business is like an army without a general or a body without a soul. You are a person. You have a purpose in life. You also have passions, fears and limiting beliefs. Without addressing those, coaching the business by changing some mechanics would not lead to lasting change.
Book a Complimentary Coaching Call