日本語でも対応しております。
 Türkçe biliyoruz.
Book a FREE One-on-One Session Now
Are you?
A driven individual with a career in science or technology?
Tired of surviving as an entrepreneur and committed to thriving instead?
Considering quitting the rat race to follow your true passion?
Ready to fast-track your way up the corporate ladder?
Hello! We are Berk (former Microsoft/Apple project manager) and Keiko (former research scientist, high-tech CEO). We help ambitious people take their lives to the next level – especially those who are in the science and tech field. While we can make a massive impact on all areas of your life (relationships, health, finances, spirituality, personal growth, etc.), we focus on career and business. Through hard work and never-ending self-education, we have mastered the success mindset and it is our burning passion to lead you to outstanding success and fulfillment too.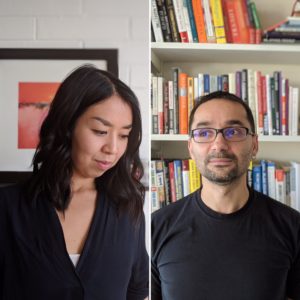 How can coaching help you?
Through coaching, you gain certainty by setting clearly defined goals and build confidence by creating a massive action plan to crush your goals. With our deep, one-on-one coaching, you will see your limiting beliefs and excuses disappear and you will get armed with tools you need to achieve exceptional success.
Coaching is not like therapy. The goal of therapy is to diagnose a condition and then cure it. Therapy is usually about the past. Coaching, in contrast, assumes there is nothing wrong with you. It focuses on the present and the future and comes with accountability. Coaching is also not like mentoring or consulting. Consultant or a mentor comes into your life, shows you how to solve your problem and you are done! Unfortunately, since you were handed a solution, there is little or no personal growth. Plus, when someone tells you what to do, you will most likely resent them and will not follow through with the plan. Because of that reason, as much as possible, we refrain from delivering advice. We come with a fresh outside perspective. We ask you powerful strategic questions that are designed to make you dig deep and seek your own solution. When you come up with your own plan, you are much more likely to implement it. As the saying goes, if an egg is broken by an outside force, life ends. If broken by inside force, life begins. Great things always begin from inside.
Our coaching can also show you your blind spot – the part of you that you are unaware of but others are well aware of. Because of this, people might interpret you differently than you would expect. You may also have bad habits or limiting beliefs that are rooted in this area which might be holding you back in life. Your friends, colleagues or family wouldn't tell you about it because you could resent them – even if what they say is in your best interest. As coaches, part of our passion is to tell you and show you what uncomfortable because that discomfort will most likely lead you to growth.
Coaching is an intimate practice, conducted behind closed doors for privacy purposes. Just like no one talks about having a therapist or the kind of work they do with their therapist, no one talks about having a coach or the nature of their coaching partnership. Working with a coach can also be seen as a sign of weakness, or as proof that a person is inferior to those who seem to succeed without coaching.
But you are already successful. Why would you need a coach?
You do not need a coach. There is nothing wrong with living your life by default. However, if you are ambitious, if you demand more from life or if you are tired of just surviving and committed to thriving instead, coaching can definitely help you get there faster. A Manchester, Inc. research in 2001 demonstrated a six-fold return on investment from coaching. Another estimate according to Fortune magazine shows that monetary payoff from coaching an average return of more than six times the cost of coaching.
People who work with coaches are over-achievers. Because of coaching, they are not only more successful but they also enjoy greater fulfillment in life. Here are some successful people who may not need coaching but actively work or has worked with a coach: Bill Gates, Oprah Winfrey, Warren Buffett, Leonardo DiCaprio, Serena Williams, Nelson Mandela, and Bill Clinton.
What is your coaching model?
We are trained by the best of the best, the father of life coaching, Tony Robbins. We use his proprietary techniques to guide you to success. We do so by helping you clarify these:
Result / What: What is the result you desire? You should be very specific here. Saying "I want more money." is too vague. Your mind cannot visualize it and because of that, it sits somewhere in your head like a distant wish which may or may not happen one day. "I want to retire with $1,000,000 in 20 years." is more specific and therefore it is actionable.
Purpose / Why: Why do you want to achieve this result? If your purpose is strong, you are more likely to get your result. In fact, if the result you are after is a must for you, you will find a way to get what you want. Imagine that you are diabetic and the doctor says "Unless you lose 40 pounds and stop drinking, you have less than a year to live.". How likely would you be to lose weight and stop drinking? On the other hand, if you just want to lose a few pounds but you can still fit in your size-2 jeans, that would be another story.
Massive Action Plan / How: Knowing your Result (what) and Purpose (why) serves as the foundation. This is when we begin creating a unique massive action plan for you. Plans rarely work in their first version, however, combined with your strong foundation and the accountability you receive from us, we will tweak your plan until you get the results you want.
We believe that is not a theory to be sold – it is an experience to be had. If you are a driven achiever who is committed to turning her dreams into a reality, contact us now for a FREE powerful session. In this hour, we will dig deep, discover your limiting beliefs and create a massive action plan to help you crush your goals.
Book a FREE One-on-One Session Now